The Board of Secondary Education Assam (SEBA) has recently issued a notification regarding the students who did not pass the High School Leaving Certificate Examinations (HSLC) 2023. According to the notice, students who were unsuccessful in the Class 10th exam this year are required to take re-admission for regular classes in 10th grade.
As confirmed by Assam's Education Minister, Ranoj Pegu, through his official Twitter handle, students who did not pass the HSLC Examination 2023 must re-enroll in Class X for regular classes. Only then will they be eligible to appear in the subsequent examination.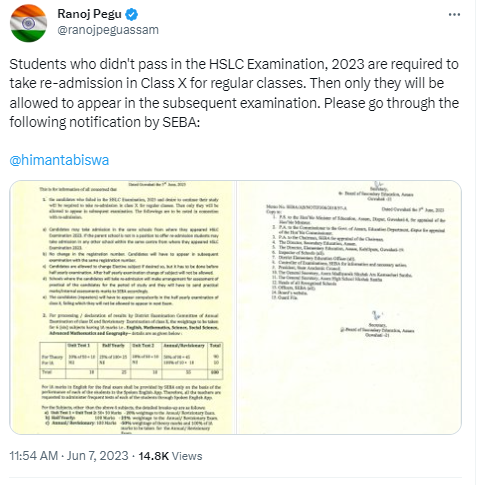 Students can seek admission in the same schools where they appeared for the HSLC examination in 2023. If the parent school is unable to offer re-admission, students can enroll in any other school within the same center where they took the exam.
It is important to note that there will be no change in the registration number, and students must appear in subsequent examinations using the same registration number.
The notification also states that students are allowed to change elective subjects if desired, but this must be done before the half-yearly examination. Repeaters are required to appear in the compulsory half-yearly examination for Class 10. Failure to do so will result in their ineligibility to appear in the final exam the following year.
Stay updated with further announcements and guidelines issued by SEBA to ensure a smooth re-admission process for failed students in the Assam HSLC Exam 2023.
Get the Free Fast Result App
Download Link
Scan Me