PSEB 10th Date Sheet 2020 has been revised. Students of class 10th can now check and download the new date sheet through a link below. As per revised PSEB 10th Date Sheet 2020 exams are going to begin from March 17, 2020 and continue until Apri 13. The first exam is of Punjabi A/ Punjabi History and Moral/ Science. Punjab School Education Board (PSEB) has released the 10th date sheet on its official website- pseb.ac.in. The examination timings are from 10:00 am to 1:15 pm. Here through this article, we have discussed the important dates, steps to download Punjab Board 10th Date Sheet 2020 preparation tips, previous year question papers and more.
Download PSEB Revised 10th date sheet 2020 : Click Here
Note : PSEB class 10th date sheet 2020 has been revised. Exam earlier scheduled on April 02 and April 06 now scheduled to April 09 and April 13 respectively.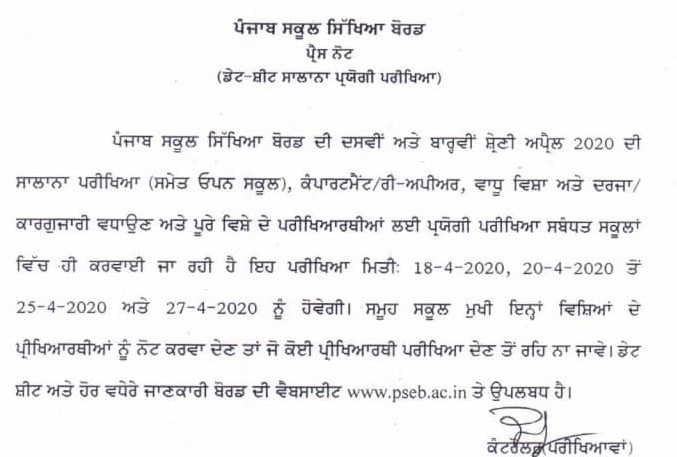 PSEB 10th Revised Date Sheet 2020
Date and Day
Subjects With Code
17 Mar 2020
Tue
Punjabi- A (01)/ Punjabi History and Moral
Science – A (07)
20 Mar 2020
Fri
English (02)
23 Mar 2020
Mon
Science (05)
24 Mar 2020
Tue
Punjabi – B (72)/ Punjabi History and Moral
Science – B (73)
27 Mar 2020
Fri
Social Science (32)
30 Mar 2020
Mon
Maths (04)
31 Mar 2020
Tue
Music (04)
01 Apr 2020
Wed
Hindi (03), Urdu (71)
02 Apr 2020
Thu
Health and Physical Education (08)
03 Apr 2020
Fri
NSQF Subjects- Snageet Pachun (76)/ Automobile (78)/
Physical Education (79)/
Information Technology (80)/
Personal News (81)/ Health & Life style (82)/ Tour & Tourism (86)/
Physical Education & Pada (87)/ Agriculture (88)/
Apparel (89)/ Construction (90)
04 Apr 2020
Sat
Music Vocal (30)
06 Apr 2020
Mon
Computer Science (63)
07 Apr 2020
Tue
Music Tabla (32)
08 Apr 2020
Wed
Mechanical Drawing & Arts (28)/ Tailoring (29)/ Home Science (33)/
Agriculture (35)/ Physical Education (70)
Languages: Sanskrit (09)/ Urdu (10)/ Farsi (11)/ Arabic (12)/ French (15)/
German (16)/ Russuan (18)/ Korean (50)
Pre Vocational: Computer Science (Pre-Vocational) (34) /
Repair and Maintenance of Household Electrical Appliances (38) /
Electronic Technology (39) /
Repair and Maintenance of Household Power & Machinery (40) /
Welding (41) / Scooter & Motorcycle (Repair & Maintenance (42) /
Garment Technology (43) / Woodcraft (44) /
Basic office work & Stenography (45) / General Horticulture (46) /
Knitting Hand & Machine (47) / Engineering, Drafting & Duplicating (48) /
Wood Preservation (49) / Weaving Technology (51) /
Commercial Arts (52) / Manufacturing of Sports Goods (53) /
Manufacturing of Leather Goods (54)
09 Apr 2020
Thu
Health and Physical Education (08)
13 Apr 2020
Mon
Computer Science (63)
Get the Free Fast Result App
Download Link
Scan Me