HP Board 12th Date Sheet 2020 (Now Available)
HP Board 12th Date Sheet 2020 has been released tentatively. So, students check and download the date sheet from below. As per tentative HP Board 12th Date Sheet 2020, the exams are going to start from March 05, 2020. The first exam is of English. Himachal Pradesh Board of School Education (HPBOSE) has released the class 12th date sheet on its official website- hpbose.org.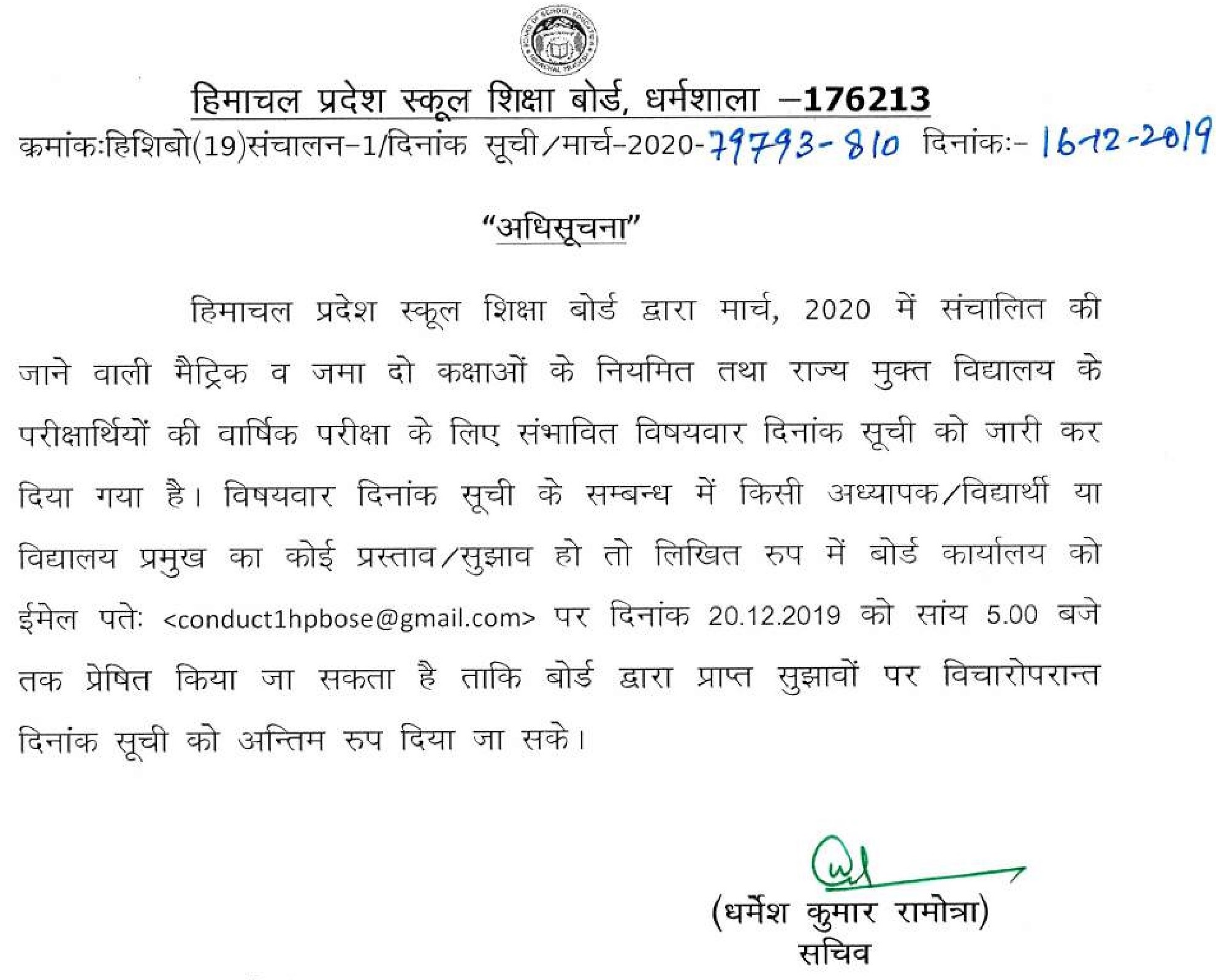 Tentative date sheet is released to provide students with an estimate idea of the final exam dates. Also, if there is any query regarding the same then students, teachers and school principles can send an email to the board until December 20 by 5:00 pm. The exam timings are from 8:45 am to 12:00 noon. 12th practical exams are going to take place from February 15, 2020, at the respective schools only.
| | |
| --- | --- |
| 12th Date Sheet 2020 | Important Dates |
| Availability of Time Table | 16 Dec 2019 |
| Examination Dates | 05- 28 Mar 2020 (Tentative) |
Download 12th Date Sheet 2020 PDF : Click Here
Date
Regular/Compartment/Improvement/additional Subjects - 8:45 AM to 12:00 noon
All State Open School (SOS) Candidates 1.45 PM to 5.00 PM
05 Mar 2020
Thu
English
English
06 Mar 2020
Fri
Philosophy
French/ Urdu
Urdu
07 Mar 2020
Sat
Political Science
Political Science
09 Mar 2020
Mon
Biology
Business Studies
Biology
Business Studies
11 Mar 2020
Wed
Music (Hindustani Vocal/ Hindustani
Instrumental Melodic)
Hindustani Instrumental Percussion
----
12 Mar 2020
Thu
Chemistry
Hindi
Chemistry
Hindi
13 Mar 2020
Fri
Psychology
----
14 Mar 2020
Sat
Economics
Economics
16 Mar 2020
Mon
Public Administration
Public Administration
17 Mar 2020
Tue
Accountancy
History
Physics
Accountancy
History
Physics
18 Mar 2020
Wed
Sanskrit
Sanskrit
19 Mar 2020
Thu
Mathematics
Mathematics
20 Mar 2020
Fri
Human Ecology
Family Science (H.Sc)
Human Ecology
Family Science (H.Sc)
21 Mar 2020
Sat
Physical Education
Yoga
Physical Education
23 Mar 2020
Mon
Computer Science (I.P)
Computer Science (I.P)
24 Mar 2020
Tue
Automobiles (NSQF)
Healthcare (NSQF)
Information Technology Enabled Services(ITES) (NSQF)
Security (NSQF)
Retail (NSQF)
Agriculture(NSQF)
Travel Et Tourism(NSQF)
Telecom(NSQF)
Physical Education (Vocational)
BFSI (Banking, Finance Services and Insurance)
Media a Entertainment
Automobiles (NSQF)
Healthcare (NSQF)
Information Technology Enabled Services(ITES) (NSQF)
Security (NSQF)
Retail (NSQF)
Agriculture(NSQF)
Travel Et Tourism(NSQF)
Telecom(NSQF)
Physical Education (Vocational)
BFSI (Banking, Finance Services and Insurance)
Media a Entertainment
25 Mar 2020
Wed
Geography
Geography
26 Mar 2020
Thu
Sociology
Sociology
27 Mar 2020
Fri
Financial Literacy
----
28 Mar 2020
Sat
Dance (Kathak/ Bharatnatyam)
Fine Arts: Painting, Graphic, Sculpture and Applied Arts
----
Get the Free Fast Result App
Download Link
Scan Me